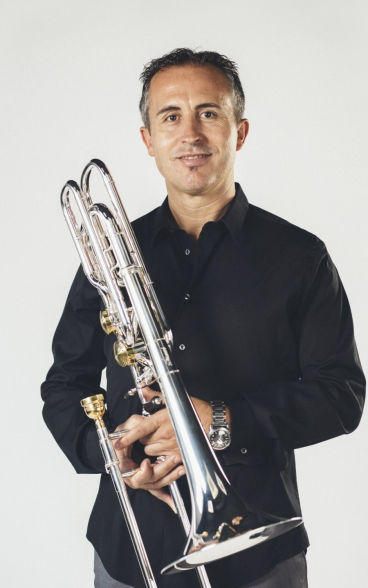 Bass Trombone of the Spanish National Orchestra (ONE)
He was born in Biar, Alicante, where he began his musical studies; He completed his high studies at the Royal Conservatory of Madrid with Professor Juan Bautista Abad, earning Honorable Mention Thesis.
He was taught by Enrique Ferrando and Rogelio Igualada (Soloists of the ONE), Gilles Millière (Conservatory of Paris), Branimir Slokar (Conservatory of Lausanne), Don Harwood (New York Philharmonic) Bob Hudges (London Symphony), Ben Van Dijk (Rotterdam Philharmonic).
Since 2000 he has been bass trombone of the National Orchestra of Spain, with which he has performed on the most prestigious national and international conductors: Frühbeck de Burgos, Josep Pons, Enrique García Asensio, Claudio Abbado, Eliahu Inbal, Pinchas Steinberg, George Pêtre, Gustavo Dudamel, Kent Nagano, Semyon Bychkov, Christoph Eschenbach and David Afkham, among others.
He has extensive teaching experience as professor of trombone in different municipal conservatories and music schools in the Community of Madrid and Castilla-La Mancha. He also has experience in wind band conducting, as director of the Municipal Band of Mondejar.
He is a member of the group of trombones Trobada composed of trombone players from all the orchestras of Madrid and the Royal Conservatory of Music.