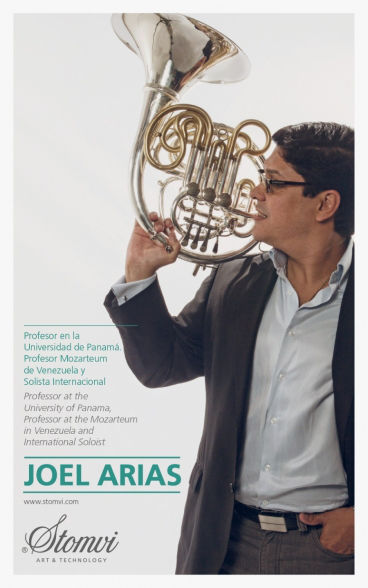 Professor at the University of Panama, Professor at the Mozarteum in Venezuela and International Soloist
Venezuelan musician dedicated to the teaching and interpretation of the horn, linked to historical research and interpretation of ancient instruments.
He was a recipient of the " DAAD Stipendium " (1992-1996), scholarship granted by the German Government to complete his study perfecting his skills as a soloist with the Valve Horn and the Baroque and Natural Horn with Michael Höltzel at the celebrated Hochschule für Musik Detmold, Germany.
He studied with Raúl Diaz, Juan Soto and Delfino Nunez at the Conservatory of Youth Orchestra of Venezuela. He received master classes of Phill Mayer, Frank Lloyd and Radovan Vlatković, and natural horn with Javier Bonet. He was Principal Horn in several Venezuelan orchestras: Lara Symphony Orchestra (1980-1985), the Maracaibo Symphony Orchestra (1985-1987), the National Philharmonic Orchestra (1987-2000) and the Symphony Orchestra of Venezuela (since 2000)
He taught in the Youth Orchestra System of Venezuela, at the Conservatory of Music "José Ángel Lamas", at Musikschule Lage- Lippe and was Associate Professor in 1997 alongside André Cazalet, at the Itinerant Conservatory from the Beracasa Foundation.
He is regularly invited to various festivals in Germany, Czech Republic and Latin America. He was invited by the IHS International Horn Society, in 2004 (Valencia, Spain), in 2007 in Chaux d 'Fond (Switzerland) and in 2011 in San Francisco (California, USA).