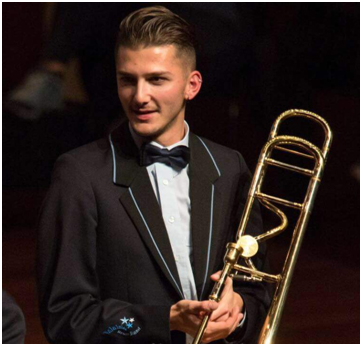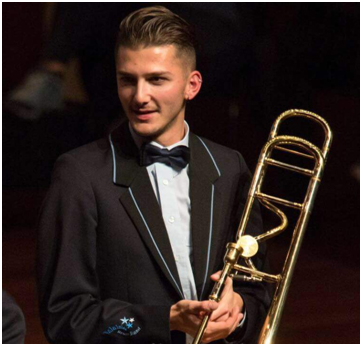 Trombone of the Valaisia Brass Band Switzerland
Damien Lagger started playing the corneet at the age of 10 at the music school of the Ancienne Cécilia de Chermignon. His current instrument is the trombone for many years.
After starting in the fanfare, he had the opportunity to join the Valaisia ​​Brass Band and participate with this group in several competitions, including four European Championships and a British Open Championship.
Passionate about composition from the age of 14, he published his first works at the age of 16. At the moment he receives diverse orders for soloists and Brass Band.
In 2015, after obtaining his certificate of music theory, he had the opportunity to take charge of the direction of the Ancienne Cécilia youth fanfare. He was able to experience, with great pleasure, the work of band conductor. He currently conducts the Avenir de Fully Fanfare.
Titles
As a soloist:
- Swiss Champion Cadet Trombone and Swiss Champion Cadet in 2009
- Swiss Junior Trombone Champion in 2010, 2011, 2012, 2013 and Junior Swiss Champion all categories in 2014
- Valaisan Junior Trombone Champion in 2008, 2009, 2013
-Valaisan Champion in all categories in 2013
With the Valaisia Brass Band:
- Swiss Champions of brass bands in 2009, 2015, 2016, 2017
-3rd place at the Brass Band European Championships in 2016, 2nd in 2017, 1st in 2018
- 1st place at the British Open Championship 2017


With the Ancienne Cécilia de Chermignon:
- 1st place at the Federal Music Festival in 2011 and 2016
- 1st place at the Cantonal Festival of Valais Music in 2014

Damien Lagger plays a Stomvi Titán Tenor Trombone